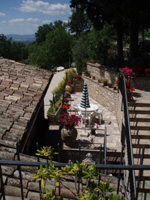 Rooms "Anna Maria" is a structure situated a few meters from one of the most beautiful historical towns in Italy: Assisi. It offers its customers complete peace and tranquillity and it is even possible to enjoy the uncomparable panoramic surroundings.

The roomrental "Anna Maria" offers comfortable double-bedrooms with services.
It also has parking space but being close to the town center, you will also find that it isn't necessary to use the car.

You will be astounded with the beauty of the small alley-ways and monuments to be found throughout the walls of Assisi.

We invite you to visit us to admire the natural beauty and history of our town.